Dr. Christopher D. Jones PT, DPT, OCS, SCS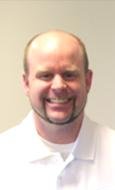 Chris Jones is co-founder of Elite Therapy, PC in Mansfield, PA and Elite Therapy NY, in Horseheads, NY. Chris's philosophy of patient care is that the level of care given is dependent on the level of skill of the physical therapist; and to achieve the highest level of care the therapist must be committed to clinical and professional advancement.
Chris's career path demonstrates this philosophy. Chris graduated with a bachelor's of science degree in Health Sciences from Clemson University (GO TIGERS!!) in 1994. Chris received his master's degree in Physical Therapy from the University of Delaware in 1996. The university of Delaware Physical Therapy Program is rated the top program in the nation by U.S. News and World Report's "America's Best Graduate Schools". Upon Graduation, Chris was offered a residency in Sports Physical Therapy through the University of Delaware Physical Therapy and Athletic Training Departments. The Sports Physical Therapy Residency was a year-long program of advanced training to develop the resident into a clinical specialist. During his residency Chris assisted the University of Delaware Athletic Trainers with on-field and Athletic Training Room management of athletic injuries. He also spent approximately 15 hours per week with an orthopedic surgeon during office hours and surgery observation. Chris was a teaching assistant for the gross anatomy and orthopedic assessment and treatment classes in the Physical Therapy Department and was also a clinical instructor for the graduate students.
Upon completion of his residency, Chris was offered a site manager position to open a new clinic for the local hospital system. Chris continued his teaching and clinical instructor responsibilities at the University of Delaware as adjunct staff for three years after his residency. In 2001 Chris Received his Board Certification as a Specialist in Sports Physical Therapy. In 2002 he received his Board Certification as a specialist in Orthopedic Physical Therapy. He was recertified in both specialties in 2011 and 2012, respectively. Chris is one of less than 200 physical therapists in the U.S. with this dual certification. In 2011 Chris received his Doctor of Physical Therapy degree from Arcadia University. Chris is a mentor for the St Francis University Physical Therapy Sports Physical Therapy Residency Program. Chris is a member of the American Physical Therapy Association APTA) and the Pennsylvania Physical Therapy Association (PPTA). He currently serves on the Board of Directors for the PPTA as the chair of the North Central District and on the PPTA Executive Committee as the Member at Large. Chris also serves as Pennsylvania delegate to the APTA House of Delegates.
Chris moved to Tioga County in 2004 to become part of the community and advance the profession of physical therapy in this region. Chris represents Elite Therapy for the Mansfield Chamber of Commerce where he currently holds the positions of Vice President and Chair of the Independence Day Committee. Chris serves on the Hamilton-Gibson Productions Board of Directors and currently holds the position of President. He is a member of the Mansfield Branch Board for First Citizens Community Bank. He currently is Vice President of the Betterment Organization of Mansfield (BOOM). Chris also is a member of the Smythe Park Committee for STDS.